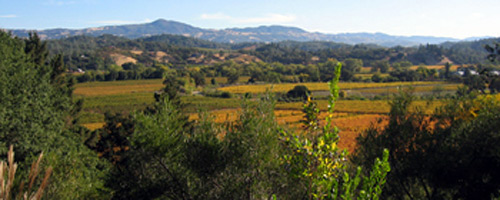 In the Healdsburg area, there is never a shortage of things to do. For more information on activities in the area and a calendar of events, please visit http://www.healdsburg.org. Enjoy restaurants, wine-tasting, shopping and antiquing in Healdsburg and beyond.
Take a walking tour of historic homes, pamper yourself at one of the spas, or experience the museums and wine library. Hike through the Dry Creek and Alexander Valley trails, picnic under the Redwoods, or take a bike ride through the countryside.
Our Personal Favorites:
Share a late-afternoon bottle of wine and enjoy the view from the Adirondack chairs after tasting at Copain Winery - just down Eastside Road from the house. The views are spectacular and the light is perfect just before closing.
Sip some great wines among the grape fields on Westside Road at Porter Creek - a lovely, rustic setting just two miles away. (If you have young kids, there's a tractor for them to climb on under the willow tree.)
Want to earn those glasses of vino? Rent a bike from Spoke Folks in Healdsburg (or bring your own), and do a gorgeous 20-mile ride right out the front door of the house. Go right on Eastside Road, right on Wohler (cross the Russian River on the old red bridge), take another right on Westside Road all the way into Healdsburg (this part of the ride is stunning). You can fill up your water bottle at Spoke Folks for free, or stop at the square for some lunch and a rest - you're about halfway home. Continue pedaling south on Healdsburg Avenue (cross another bridge), turn right on Eastside Road, and stay on Eastside to the house. Strip down, and cool off in the pool.
Take a stroll around the lake and pick blackberries at Riverfront Regional Park, about 2 miles away. There are picnic tables, a hiking trail, 2 man-made lakes, with loads of blackberries during the season. (But it's a nice walk any time of year.)
Of course, the Michelin-starred restaurant at the Farmhouse Inn can't be beat. If we're a two-some, we like to share five appetizers as a tasting menu alongside a great bottle of wine. Make your dinner reservation for sunset, grab a glass of wine and walk the easy mile to the restaurant while the light falls on the fields (be sure to drop a car there beforehand or bring a flashlight for the walk home - there aren't any street lights and it's a small shoulder on the road).
Other Area Goodies: